12 core shielded cable is a kind of control cable. So it has the same features with control cable. 12 core control cable is a special cable, which is used in some special situations. The first is there is a specific regulation in DC resistance. Because 12 core armoured cable is to control the resistance effectively from many aspects. So the resistance, which it can be through, is stable. Having a simple example is for you. As for 0.4 mm copper wire, the maximum resistance is only 148 euro per kilometer, and 0.5 mm copper wire is 95 euro per kilometer. These data is specific. So when you buy low price 12 core screened cable, you should consider the specification. Then you can get the suitable 12 core cable in low price. You can send us the your wanted specification, and we can judge and quote for you right now. Email:sales@hdccontrolcable.com.
10 core shielded cable details: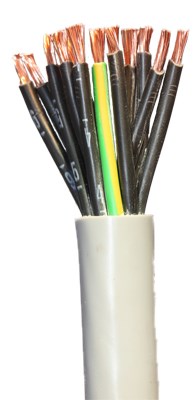 Conductor:Copper/Tinned copper
Insulation:PVC/PE/XLPE
Shield: Copper Wire Braid, Al-foil Individual and Overall Screen/ unshielded
Armour: Steel Wire Armored/galvanized steel wire armoured/ unarmoured
Sheath: PVC / ZR-PVC / PE / LSZH
Standard:IEC,ASTM,BS etc.
Packaging:Iron or Wooden Drum.
There is another feature in the performance. That is the cable insulation electrical strength of 12 core control cable is very strong. Because their function is mainly controlling, it can do very well in protecting electricity. 12 core screened cable can be used many occasions. So it has good stability. Then it can protect itself from breaking. This feature can provide customers the good effect and experience. So if you need this kind of cables, 12 core control able is a good choice. Click here to get the best 12 core cable price right now.   Email:sales@hdccontrolcable.com.


The last feature is it is a good insulation resistance. If you have ever seen this kind of cable, you can find a conductor, which color is different with other conductors. This conductor is grounding. This can protect the safe. So when we use 12 core wire, we won't worry about the safety. In all industry and power industry, 12 core control able is a good choice, so just contact us to get 12 shielded cable price right now.   Email:sales@hdccontrolcable.com.
Why choose us?


We owns 4 cable workshops, which each has over 10000 square meters, 20 sets advanced cable produce equipment, 20 high technology engineers, and 150 staffs,  Every production process has been strictly checked by our professional technical engineers. Welcome you to come and visit our factory with all time. we can provide you all hot-sale products: 2 core control cable, 3 core shielded cable, 4 core control cable, 5 core screened cable, 6 core shielded cable,  7 core cable, 8 core shielded cable, 10 core shielded cable, 19 core cable and 30 core cable. Get the address here. Email:sales@hdccontrolcable.com.
Customer cases


We have exported 10 core shielded cable to many countries, so have have the rich experience and can solve your problems better. You can send us the inquiry free.  Email:sales@hdccontrolcable.com.