8 core control cable is one size of control cable. You can choose shielded cable or unshielded, armored or unarmored. Of course, we have many standard, If you have other requirement. You can sen us your demand to us, then we can quote for you.  Email:sales@hdccontrolcable.com.
8 core shielded cable details: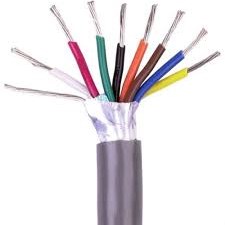 Voltage:
 300/500V & 450/750V
Conductor:Copper/Tinned copper
Insulation:PVC/PE/XLPE
Shield: Copper Wire Braid, Al-foil Individual and Overall Screen/ unshielded
Armour: Steel Wire Armored/galvanized steel wire armoured/ unarmoured
Sheath: PVC / ZR-PVC / PE / LSZH
Standard:IEC,ASTM,BS etc.
How to keep the low  price 8 core screened cable safe?
As we all know, there is an important point we should pay attention in using cable. That is the safe. Fire is a big problem, so I think you should focus on this. If you want to buy low price 8 control cable, keeping safe is a big project. Now, I want to talk about how do you keep safe. Email:sales@hdccontrolcable.com.


In my opinion, the first thing is to choose high-quality 8 core shielded cable. Quality is the most important, especially in cable industry. Huadong Cable Group have produced 8 core control cable for 30 years. We have export it to all over the world for 15 years. So we may be your good choice, you can contact us now, 8 core cable price is waiting for you.  Email:sales@hdccontrolcable.com.

There are two types 8 core cable you can choose: flame retardant cable and fire resistant cable. They will be safer than general 8 core control cable, especially in the fire. Now, I want to talk to you simply about these two cables. Although they all called fireproof cable, they have something different. Flame retardant cable can retard and retard the spread of flames, and then control the fire not to expand. So fire fighter can have enough to put out the fire, and reduce the lost. Fire resistance cable can keep operating in a specific time, when the cable get fired. If you want to keep cable 8 core safe, I think this kind of material can satisfy you. You can send us to get the exact 8 core cable price. Email:sales@hdccontrolcable.com.
Why choose us?

You can choose wooden drum and other packages you want. On-time and high-quality transportant is our pursuit. So you can just choose your wanted products, and we can transport safely for you. Hot-sale products are waiting for you: 2 core control cable, 3 core shielded cable, 4 core control cable, 5 core screened cable, 6 core shielded cable,  7 core cable, 10 core shielded cable, 12 core control cable, 19 core cable and 30 core cable. Just contact us now. Email:sales@hdccontrolcable.com.
Customer cases


We adhere to get a win-win cooperation, so we can cooperate with many company and individual person. We promise we will try our best to service you. So let us know your requirement now. Email:sales@hdccontrolcable.com.