19 core cable belongs control cable. The same as other control cable. 19 core cable has shielded and unshielded, armored and unarmored. You can choose according to your demand. If you don't know how to choose, you can send us your requirement, we can quote for you according your requirement.   Email:sales@hdccontrolcable.com.
19 Core Control Specification
19 Core CVV Control Cable
No. of core
Nominal cross-sectional area
No.& dia.
Thickness
Thickness
Overall diameter (Approx.)
Maximum conductor resistance
Minimum insulation resistance
Cable
Standard Length
of wires
of insulation
of sheath
(at20C)
(at70C)
weight (Approx.)
mm2
No./mm
mm
mm
mm
Ohm/km
Ohm/km
kg/km
m
19
0.5
7/0.30
0.8
1.8
18
36
0.0162
365
500/D
0.75
7/0.37
0.8
1.8
19
24.5
0.0142
445
500/D
1
7/0.40
0.8
1.8
19.5
18.1
0.0135
480
500/D
1.5
7/0.50
0.8
1.8
21.5
12.1
0.0115
620
500/D
2.5
7/0.67
0.8
1.8
24
7.41
0.0093
905
500/D
4
7/0.85
1
1.8
29.5
4.61
0.0092
1385
500/D
6
7/1.04
1
1.9
32.5
3.08
0.0078
1885
500/D
Get the price now: sales@hdccontrolcable.com
.
19 Core Cable Structure: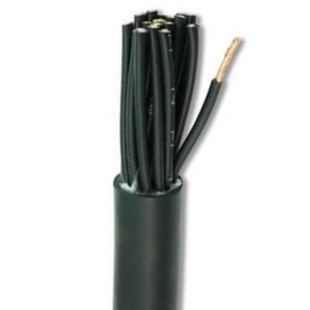 Conductor:Copper/Tinned copper
Insulation:PVC/PE/XLPE
Shield: Copper Wire Braid, Al-foil Individual and Overall Screen/ unshielded
Armour: Steel Wire Armored/galvanized steel wire armoured/ unarmoured
Sheath: PVC / ZR-PVC / PE / LSZH
Standard:IEC,ASTM,BS etc.
Packaging:Iron or Wooden Drum.
How to get the 19 core cable with long-term service life?
When you buy a product, you must want to get a product with long-term service life. So does cable. We will do the aging and stability test before factory. Aging test means a stability test, which cable can stay stability under the stress effect, such as mechanical, electrical and thermal. Let illustrate 19 core cable as a example. Simple aging test is to test its the feature under heat. We can put the it in the temperature, which is higher than working temperature. After the prescribed time, we measure some sensitive performance. We can judge the aging performance of form the change of these sensitive performance. We can send you the method and video to let you have a reference. You can contact us now.  Email:sales@hdccontrolcable.com.


There is another way, which form a aging period with high temperature, thermal, mechanical electrical stress, such as moisture, vibration, electric field and other factors. After this, you can measure some sensitive parameter, until the deadline. The you can get the service life of 19 core cable. There is another thermal stability test. When 19 core cable has current power, it also bare the certain voltage. After a specific cycle, you can judge the thermal stability form some sensitive data. You must know the insulation stability test is divided into two: long-term test and short-term. So you can choose according your condition. If you want to get help, you can contact us. We are pleasure to help you. Email:sales@hdccontrolcable.com.
Package and delivery

We can promise that we can delivery on time, and you can send your requirement to us now. all hot-sle products are here:  2 core control cable, 3 core shielded cable, 4 core control cable, 5 core screened cable, 6 core shielded cable,  7 core cable, 8 core shielded cable, 10 core shielded cable  and 30 core cable. Email: sales@hdccontrolcable.com.
Customer cases


We have exported 10 core shielded cable to many countries, so have have the rich experience and can solve your problems better. You can send us the inquiry free.  Email:sales@hdccontrolcable.com.