30 core cable is one type of control cable, and it is an important part. From its name, we can know it has 30 conductor. If you want to buy it, you can also choose armored or unarmored, shielded or unshielded. There is jacket and insulation material of 30 core you can choose, such as PVC, PE or XLPE. So there are many choice for you. If you have other requirements, you can send us, we can design and customize 30 core cable for you. We are waiting for you.  Email:sales@hdccontrolcable.com.
30 core shielded cable details: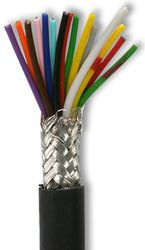 Conductor:Copper/Tinned copper
Insulation:PVC/PE/XLPE
Shield: Copper Wire Braid, Al-foil Individual and Overall Screen/ unshielded
Armour: Steel Wire Armored/galvanized steel wire armoured/ unarmoured
Sheath: PVC / ZR-PVC / PE / LSZH
Standard:IEC,ASTM,BS etc.
Packaging:Iron or Wooden Drum.
30 Core CVV Control Cable
No. of core
Nominal cross-sectional area
No.& dia.
Thickness
Thickness
Overall diameter (Approx.)
Maximum conductor resistance
Minimum insulation resistance
Cable
Standard Length
of wires
of insulation
of sheath
(at20C)
(at70C)
weight (Approx.)
mm2
No./mm
mm
mm
mm
Ohm/km
Ohm/km
kg/km
m
30
0.5
7/0.30
0.8
1.8
22
36
0.0162
540
500/D
0.75
7/0.37
0.8
1.8
23
24.5
0.0142
665
500/D
1
7/0.40
0.8
1.8
24
18.1
0.0135
725
500/D
1.5
7/0.50
0.8
1.8
26
12.1
0.0115
940
500/D
2.5
7/0.67
0.8
1.8
30
7.41
0.0093
1395
500/D
4
7/0.85
1
2
37
4.61
0.0092
2180
500/D
6
7/1.04
1
2.2
41.5
3.08
0.0078
2990
500/D
Get the price now: sales@hdccontrolcable.com
How to choose suitable 30 core cable?
It is not an easy thing to use well 30 core cable, because it is different with other cables. So if you want to use well, you should pay attention to the choice. The specification has the close relation with its cross section, so you can pick up effectively from the the cross section. You should choose very carefully. By the way, we can design for you. Email:sales@hdccontrolcable.com.

After you get the suitable 30 core cable, how to use it is becoming more important. There is a point you should focus. That is capacitance. Only you use it well, you can make the cable use better. You should keep the current is lower or equal the capacitance. Then it can sustain working. As we all know, when the current is higher than the capacitance, the cable is overload. When the cable is overload, there may be something happens. Of course, it is bad things. It may cause short circuit or high temperature. Then it will get fired. This is just the first step. In the daily using, the regular checking should be a specific thing. In this way, you can know the cooperation of 30 core cable. once somethings happen, you can handle instantly and reduce the lost. Email:sales@hdccontrolcable.com.
Why choose us?


This is our new factory, which built in last years. We start using it already. So we can provide you low-price 30 core cable, and delivery on time. All hot-sale products are here: 2 core control cable, 3 core shielded cable, 4 core control cable, 5 core screened cable, 6 core shielded cable,  7 core cable, 8 core shielded cable, 10 core shielded cable, 12 core control cable and 19 core cable. So just contact us. Email:sales@hdccontrolcable.com.
Customer cases


We have accepted many customers in the past years, and built good relationship with them. So I believe we can have a win-win cooperation. Welcome to our factory. Email:sales@hdccontrolcable.com.